TIMBER FLOOR SANDING IN SYDNEY
Timber Floor Sanding-SYDNEY FLOOR SANDING EXPERTS​
TIMBER WOOD FLOOR SANDING SERVICE IN SYDNEY: Timber floors might be the best flooring option. However, they require sanding from time to time. If your floors look worn out, it might be time that you get your timber floor sanding done.
 If you are searching for the 'Best wood floor refinishing service near me', or 'Timber wood flooring sanding hire' on Google then Precise Flooring can definitely be one of the best options for you. You will get the most Professional wood Floor refinishing services in Sydney that can help you bring back the former glory of your timber floors. One of the best reasons to hire us for your timber wood floor sanding and floor polishing needs is that we focus on doing floor sanding without making unwanted dust as much as possible.
We specialize in Timber floors or wooden floorboards, residential and commercial hardwood flooring, old floor renovation, timber flooring services for new floors, parquetry flooring services, stairs, staircases, decks,  verandahs, pool decking, and cork floor sanding in Sydney and surrounding areas 
About Timber I Hardwood I Engineered Wood
Floor Sanding and Polishing Sydney
Timber Wood floor sanding is the process of removing the top layer of wood from a timber floor in order to expose the fresh, new wood beneath. This process can be done by hand using sandpaper, or by using a floor sander. Floor sanders are large, powerful machines that make the sanding process much quicker and easier, but they can be expensive to hire. It is important to make sure that the surface is completely smooth before applying any new finishes.
Timber floor sanding can be a difficult and time-consuming process, but it is important to make sure that the surface is completely smooth before applying any new finishes. If you are considering sanding your timber floor, it is important to speak to a professional wood floor refinishing service company to get advice on some of the best ways to proceed with the floor sanding process. They will be able to advise you on the best type of sander to use, the perfect grit of sandpaper to achieve the perfect finish, and how to protect your floor from damage during the sanding process.
The process of floor sanding can be quite messy, so it's important to have the proper equipment and protective gear. The floor should be sanded evenly and without missing any spots for good results. Also, it's important to finish the job by applying a protective sealant to the floor to protect it from wear and tear. You can also hire a floor sanding company to make the process easier and cost-effective. There are a few things to consider when selecting a floor sanding service. Primarily you should look out for a service provider that has experience with the type of flooring you have. If you have timber floors, you'll want to find a service that specializes in timber floor sanding. Next, you should find a service that uses the right type of equipment and products for your floors. If you have sensitive floors, you'll want to find a service that uses gentle products. 
Finally, you should find a service that offers the most reasonable cost-effective cost for floor sanding work along with the promise of service satisfaction. This will ensure that you're satisfied with the results of the floor sanding. Precise Floor Sanding promise to always offer the best reasonably discounted cost of floor sanding in Sydney.
Is it worth refinishing old hardwood floors?
Improve Quality
It is a less-known fact that sanding your timber floor can also help to improve the quality of indoor air in your home. Dust and other airborne particles can settle into your carpets and floorboards, causing problems for people with allergies or respiratory conditions. Sanding your floors on a regular basis can help to reduce the amount of dust and other particles in the air, making it easier to breathe and improving your overall health.
Restore Original Beauty
Sanding the floors can help to restore the original beauty of your floors: Timber floor sanding helps to remove the top layer of your floorboards to reveal a new, fresh layer beneath. It also helps to improve the durability of the floor and restore the original beauty of your floors, as well as improve their durability. Timber floor sanding is a relatively simple process that can be completed in a matter of hours, and it is an affordable way to give your floors a new lease on life.
Incerase the Value
Timber floor sanding can also benefit in improving the look of your floor and making it feel brand new. Also if you are thinking of selling your home this process can really help to increase the value of your home, as potential buyers will be impressed by the condition of your floors. If you're not planning on selling any time soon, then you'll still be able to enjoy your newly sanded floors for many years to come.
Protection form Damage
Sanding smooths out the surface of your floors and helps to protect them from dirt, dust, and other debris. It also helps to seal and protect the floors from moisture and other environmental factors.
Extend The Life
Floor sanding can help to multiply and increase the life of your floor by up to 10 times. This process can also help to repair any damage that has been done to the floor, such as scratches or gouges.
Free Quotes Given Within 24 Hours After Initial Inspection
We specialise in timber floor installation, restoration, sanding and polishing.
Timber Floor Sanding and Polishing Near Me
Precise Floor Sanding
Precise Flooring Floor Sanding is a professional floor sanding company that has been providing top-quality timber wood floor sanding, polishing, and other various types of flooring services to homeowners and businesses in Sydney and surrounding areas for 25 years. We take pride in our workmanship and our commitment to customer satisfaction, which is why we offer a 100% satisfaction promise on all of our services. Timber floor sanding is the process of smoothing down rough, uneven timber floors to create a flat, level surface. This can be done by hand using sandpaper, or by machine using a floor sander. Timber floor sanding is necessary before applying a new finish to a timber floor, and can also be used for timber floor board damage repair such as scratches, scuffs, and gouges.
Our team of experienced and certified floor sanding technicians use the latest equipment and techniques to sand your floors to perfection. We can sand any type of floor, including hardwood flooring, laminate, engineered wood flooring, and more. We also offer a variety of finishes to choose from, so you can customize the look of your floors to match your specific style.
If you're looking for a company that can provide professional and high-quality floor sanding services at an affordable price, then look no further than Precise Flooring Floor Sanding. Contact us today to schedule a free consultation.
Precise Flooring is a highly experienced team of wood floor refinishing service specialists in Sydney who work hard to ensure that your timber floors look their absolute best. We are passionate about achieving perfection in floor sanding. Our superior craftsmanship is unrivaled. As the leading wood floor refinishing company in Sydney, we pride ourselves in knowing that our valued clients can trust us for an amazing job. We also promise you the most affordable timber floor sanding and polishing cost per square meter in Sydney.
When it comes to timber floor restoration, we provide the highest level of quality and service in Sydney's Eastern Suburbs,  inner west,  Northern Suburbs, Northern Beaches, North Shore, and their Surroundings. Precise Floor Sanding quality residential and commercial floor sanding and finishing packages incorporate everything from preparing the surface for a new finish, through to a complete sand and treated finish. 
Timber Floor Sanding Preparation
Before starting any floor polishing or floor sanding process, we need to do to perform the preparation activities like cleaning the timber floor and checking out all the conditions of the floor for sanding which depends on the floor maintenance. Our floor sanders will require electricity and lighting to start and complete your floor renovation. Newly purchased homes often need to have the electricity reconnected before we can commence refinishing any wooden floors. It is ideal to have all painting completed, except for the final coat on the skirting boards as our floor sanding equipment will come into contact with the skirting boards during the sanding and polishing process. We provide flooring advice and all the wooden floor board flooring services like floor recoating, floor restorations, floor resurfacing, floor finishing, wood floor polisher, floor liming, floor sealing, floor staining, floor tinting, and engineered timber flooring activities in Sydney. We are also a leading floor sanding supplier in Sydney providing all the necessary floor sanding supplies.
Any Electrical or Gas appliances should be disconnected or turned off. Timber floor finishes can sometimes seep through the timber tongue and groove boards, so we advise moving or covering items stored under the wooden floors being polished. It's better to remove floor coverings and furniture from the area requiring sanding, though we can also take extra caution and work around the furniture also without removing them if you want so.. Precise Floor Sanding can organize floor covering removal at an extra cost if needed. Undertaking the removal of all tacks and staples yourself will reduce your floor sanding and polishing price.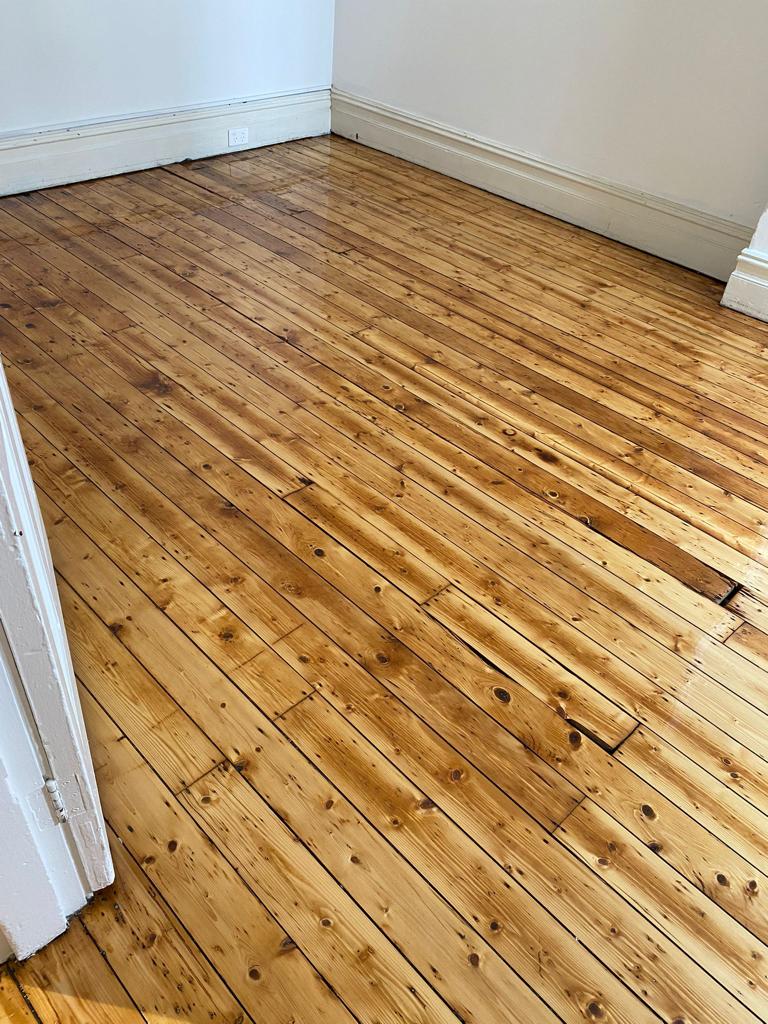 Our Timber Floor Sanding Process
Upon inspection, our wooden flooring installation team in Sydney will be able to determine the grit sequence required for your desired sanding finish. From here we will use either an orbital or drum sander to even out the surface. Then our team will use a roller, working along the grain as much as possible to even out the grain and seal the edges.
Once this sanding process is complete, we will ensure that the surface is vacuumed and cleaned thoroughly to ensure that the surface is as smooth and dust free as possible before applying varnish and polish.
Sanding Timber floor is an important process for maintaining your floors. This process removes the top layer of your floor's finish, exposing the bare wood beneath. This allows you to then refinish your floors, giving them a new lease on life.
Most floor sanding professionals begin with a thorough sweeping and vacuuming of the floors, to remove any dirt or debris. Next, the floor is sanded with coarse-grit sandpaper to remove the old finish. Once the old finish is removed, the floor is then sanded with fine-grit sandpaper to smooth out any roughness.
After the sanding is complete, the floors are then vacuumed and swept again. A new finish is then applied, and your floors will look good as new!
Why Should You Choose Us for Timber Floor Sanding Sydney?
Precise Floor Sanding is the best timber floor sanding service in Sydney due to the following reasons:
Areas of Our Timber floor sanding Service
Our specializations in Timber Floor Sanding service: