Floor Sanding Northbridge
Welcome to Precise Floor Sanding – your premier destination for floor sanding in Northbridge!
At Precise Floor Sanding, we take great pride in providing top-notch floor sanding services to the residents and businesses of Northbridge. With years of experience in the industry, our team of skilled professionals is dedicated to transforming your worn-out floors into stunning masterpieces that will leave you breathless.
Our Services:
Floor Sanding: Our expert floor sanding techniques can revitalize even the dullest and most damaged floors, removing scratches, stains, and imperfections, to reveal the natural beauty hidden beneath.
Floor Polishing: We offer floor polishing services that add a glossy finish to your floors, enhancing their aesthetic appeal and protecting them from future wear and tear.
Floor Staining: If you desire a specific color or tone for your floors, our floor staining service allows us to customize the look of your wooden floors to match your preferences.
Gap Filling: Over time, gaps may develop between floorboards, which can be both unsightly and cause damage. Our gap filling service ensures a seamless and sturdy surface.
Floor Restoration: For older or severely damaged floors, our floor restoration experts can work wonders, bringing them back to their former glory and preserving their heritage.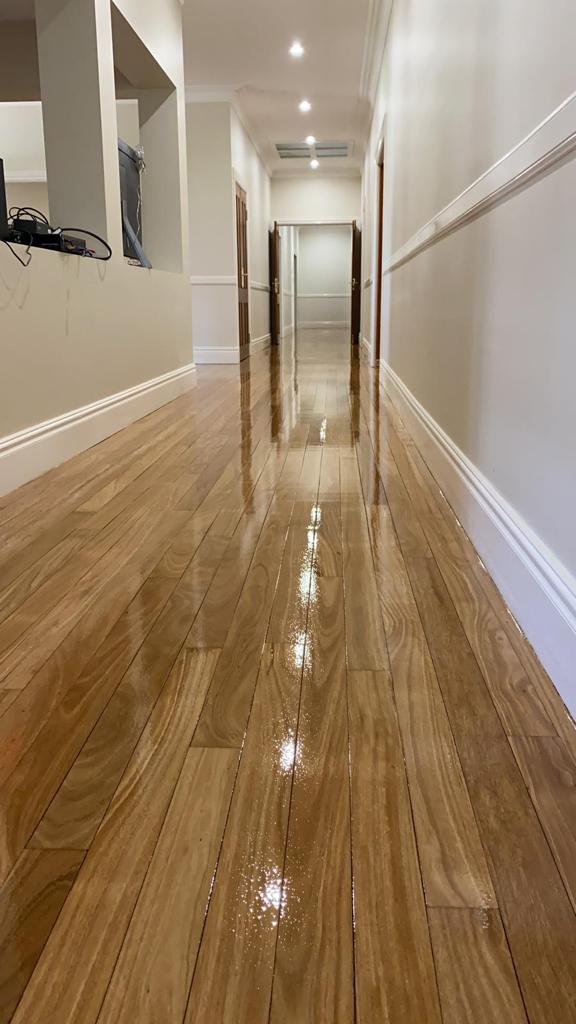 Our Process:
Initial Assessment: When you contact us, we'll schedule a convenient time to visit your property in Northbridge for a thorough assessment of your floors. We'll discuss your requirements, preferences, and any specific concerns you may have about the project.
Customized Solutions: Every floor is unique, and we understand that a one-size-fits-all approach won't yield the best results. Based on our assessment, we'll develop a tailored plan that addresses the specific needs of your floors.
Preparation: Before commencing the sanding process, we take the necessary steps to prepare your space carefully. This includes removing furniture and fixtures, securing any loose floorboards, and protecting adjacent surfaces from dust and debris.
Sanding and Restoration: Our skilled team utilizes state-of-the-art sanding equipment and techniques to strip away old finishes, paint, and imperfections from your floors. We ensure a smooth and even surface, ready for the next steps of the process.
Staining and Polishing: If you've chosen to stain your floors, we'll carefully apply the stain to achieve the desired color and tone. Once the staining is complete, we'll apply a premium-quality polish that adds shine and protects your floors from daily wear.
Finishing Touches: We pay meticulous attention to detail during the entire process, including the finishing touches. Our team will inspect the floors, ensuring a flawless result, and take care of any remaining gaps or imperfections.
Floor Polishing Northbridge
At Precise Floor Polishing, we understand that your floors are a significant investment and play a crucial role in enhancing the overall aesthetics and ambiance of your home or business in Northbridge. Whether you have hardwood, engineered wood, or concrete floors, our skilled professionals are here to restore their shine and beauty, making them look as good as new.
Our Floor Polishing Services:
Wood Floor Polishing: If you have wooden floors that have lost their luster over time, our wood floor polishing service is the perfect solution. We use specialized polishing techniques and premium-quality products to bring out the natural beauty of the wood, leaving your floors with a glossy finish that exudes elegance and sophistication.
Concrete Floor Polishing: Concrete floors can also benefit from our expert polishing services. We utilize state-of-the-art equipment and diamond-grit polishing pads to transform dull and rough concrete surfaces into smooth, gleaming floors that are not only visually appealing but also easier to clean and maintain.
Benefits of Floor Polishing: Enhanced Aesthetics: Floor polishing breathes new life into your floors, restoring their shine and beauty. The reflective surface created by polishing adds a touch of sophistication and makes your space look more inviting.
Improved Durability: Polished floors are more resistant to scratches and stains, increasing their durability and lifespan. They are better equipped to withstand daily wear and tear, making them a practical and cost-effective flooring solution.
Easy Maintenance: Polished floors are much easier to clean and maintain compared to untreated surfaces. The smooth and sealed finish prevents dirt and grime from penetrating the floor, making regular cleaning a breeze.

Healthier Indoor Environment:

Polished floors do not harbor dust, allergens, or bacteria as easily as untreated surfaces, promoting a healthier indoor environment for you and your family or customers.
Cost-Effective: Floor polishing is a cost-effective way to rejuvenate your floors without the need for extensive renovations or replacements. It adds value to your property and refreshes the appearance of your space without breaking the bank.
Why Choose Precise Flooring
Expertise and Experience: Our team of floor polishing experts has years of experience in the industry, and we stay up-to-date with the latest techniques and technology to deliver the best results.
Quality Assurance: We are committed to providing top-notch service and exceptional craftsmanship. We pay attention to every detail to ensure that your floors are polished to perfection.
Customer Satisfaction: Our priority is your satisfaction. We work closely with you to understand your needs and preferences, ensuring that we deliver results that surpass your expectations.
Competitive Pricing: We offer competitive pricing for our floor polishing services in Northbridge, making quality floor restoration accessible to all.
Transform your floors with the brilliance of Precise Floor Polishing. Contact us today for a free consultation, and let us bring out the true beauty of your floors, making them the highlight of your home or business in Northbridge!