trusted and reliable Floor Polishing service in SYDNEY
Timber Floor Sanding - Wooden floor polishing services in Sydney​
 We are a team of specialists having an experience of over 25 years of experience providing top-notch wooden floor sanding and polishing services in Sydney. Some of the examples of locations we serve are Penrith, Campbelltown, Sutherland Shire, and Hornsby. We promise you the most affordable wooden floor sanding and wooden floor polishing cost per square meter in and near New South Wales in Sydney. Our main goal is to go above and beyond to get the best possible result for your hardwood floor. So why wait? Give  Precise Floor Sanding a call today and Book your Free Flooring Consultation with us, you will not be disappointed, we promise you satisfactory quality services, and finally, you will get professionally polished floors.
We administer and deliver a wide array of solid timbers and products throughout Sydney and also offer second-to-none maintenance services including our premium floor polishing in Sydney. We pride ourselves in maintaining a high standard of sanding, coating, and floor polishing in Sydney. We use precise machines and tools in order to apply the best hard-wearing two-pack water-base coating in the industry. Dive into state-of-the-art floor sanding and floor polishing services in Sydney from a leading group of industry professionals that have honed their skills and administered leading floor sanding Sydney services, all at the most affordable floor polishing service price.
Sydney Floor Polishing Expert
Timber floor polishing is the final stage in hardwood flooring refinishing and is often referred to as timber floor coating, staining, or sealing. While there are differences between all three, timber floor polishing covers all options. We can provide our clients with a huge selection of options from high gloss, through to satin and matt finishes.
When your home's timber floors were first laid, a protecting coating or sealant would have been applied. This coating is essential to help protect your flooring from damage. Your flooring is subject to foot traffic, furniture, spills, dropped items and even pet claws, which all, over time, can damage and wear down the protective layer. As part of any timber floor re-sanding a form of protective coating must be applied to help preserve the wood's natural beauty and ensure your flooring lasts as long as your home.
There are so many different options on the market today when it comes to choosing a stain, sealer, or sheen level of coating for your timber floors and from experience we know which formula works best with which timber. Once the sanding has been completed, it is best to finish the wood floor and apply chosen coating as soon as possible. This protects the floor from moisture, containment's and other possible issues that could cause the wood grain to rise, which results in a rougher wood surface.
Benefits of Floor Polishing
When it comes to polishing your wooden floors, there are far more benefits associated with it than just a stunning end result. Polishing will help you eliminate scratches, and stains and give the overall color of your wooden boards a refresh, leaving you with the result that restores the appearance of your floor making it appear new again. The polish will fill in any scratches or other imperfections on the floor, giving it a new lease on life.
This is also an effective practice if you are looking to give your wooden floorboards a deep clean. Polishing will effectively remove a build-up of harsh dirt, while also removing any bacteria leaving you with a perfectly sanitized floor. The polish will create a barrier that will protect the floor from dirt, dust, and other debris. Polishing your floor will also make it more resistant to staining. The polish will create a barrier that will protect the floor from spills and other stains.
Polishing your floor will make it more slip-resistant. The polish will create a barrier that will grip the floor, making it less likely to be slippery. Polishing your floor will prolong its life. The polish will protect the floor from wear and tear, making it last longer.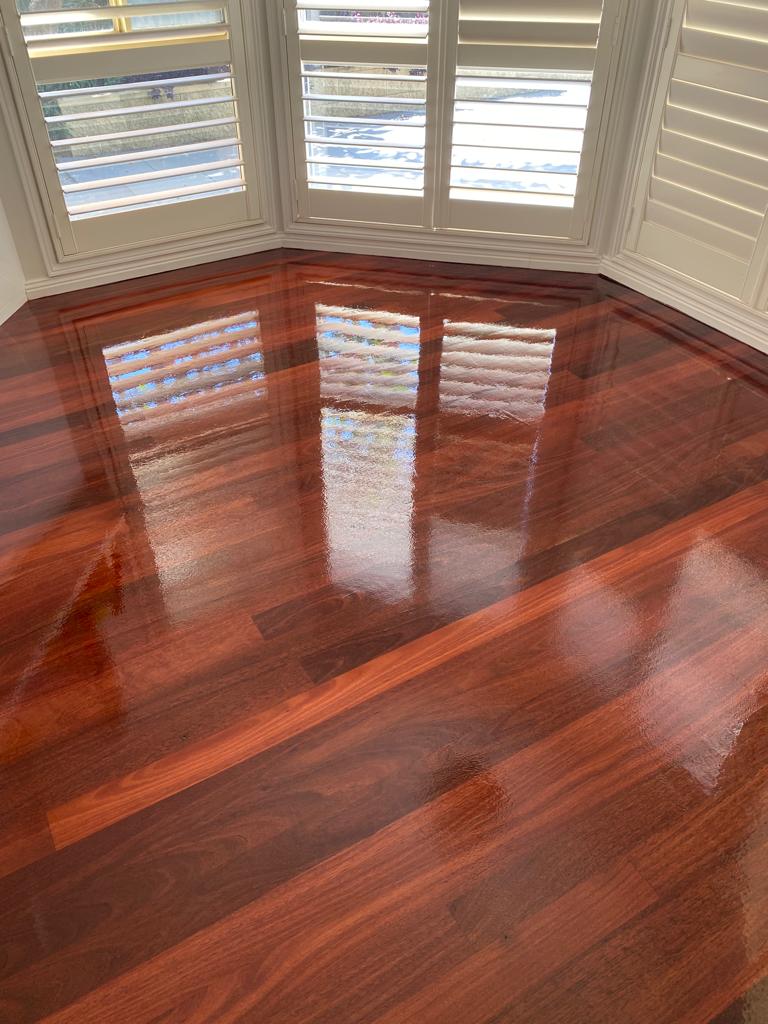 Free Quotes Given Within 24 Hours After Initial Inspection
We specialise in timber floor installation, restoration, sanding and polishing.
Our Sydney Floor Polishing Services Include
Why Choose Us for Floor Polishing & Floor Sanding in Sydney?
Precise Floor Sanding will help increase the life expectancy of your timber flooring and make it last longer. We provide the most affordable and effective floor maintenance services fixing areas that require repairs, making the surface smooth once again, and providing the flooring with a proper finish. Once we're finished, you can be sure that your flooring will hold up to everyday use.
We also offer assurances to clients that no harmful chemicals will be used in the provision of our floor sanding and floor polishing in Sydney. We take the safety of our customers very seriously, ensuring that our solutions are safe and eco-friendly. This means you can let your children play on the floor without worrying about their health. Using the latest machines to provide quality timber floor sanding and polishing, we will be in and out of your property within the time frame allotted to us. We will also clean up after ourselves so that your floors are ready for use. Our professional services are executed without causing unnecessary mess or harm to your property.
We know that you want your wooden floor to be polished, sanded, and protected the best way possible, so we offer many different ways to do this, from hard wax oils to two-pack water-based coatings.